Today's post on my blog is going to be about Lens Circle flower series of lenses from their amazing webshop! Keep reading to find out all about Lens Circle!
Hello my dear readers and welcome to another post on my blog, this one is going to be about Lens Circle flower series! Lens Circle webshop has a really wide choice of lenses, they have multiple different categories or series which you can choose from. The one of the series that looks really cute to me is flower series.
The thing which I like about flower series of circle lenses from this shop is that they make your eyes look like they are flowers with the beautiful design of them. They are available in five colours: blue, purple, green, brown and grey. I have ordered lenses before from this webshop. I can, for sure, say they are harmless. You don't have to worry about getting any consequences from putting them on. You can find many certifications for their lenses on the webshop. I will just quote what they said: "At LensCircle.com, we put your safety first. All lenses are shipped directly from Geo Medical Co., Ltd., one of the only manufacturers of circle lenses approved by the: US FDA, Health Canada, EU CE 1023, ISO 13485:2003, Russia GOST-R, Vietnam VFA, Hong Kong MDACS, Taiwan FDA, Singapore HSA, China SFDA, Japan MHLW and Korea KGMP." When I was ordering at Lens Circle, I was a bit nervous, too but when I saw all of the certifications they have, my worries were gone and I finally decided to make my order. At that time, I ordered three pairs: two green and one grey, I think. The quality is amazing. I kept the packagings I got from there because they are so cute, you get like a box with a mirror and a little bag. You can find the flower series
HERE
.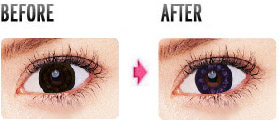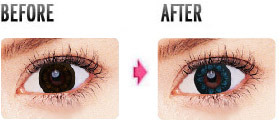 These are the photos of how the lenses should look on your eyes. The colours are so beautiful! Don't you agree? So, that was all for this post, I really hope you've liked and enjoyed it! Thank you so much for reading this post and visiting my blog! If you decide to order from Lens Circle, you can also check their video reviews
HERE
 or read articles about the lenses
HERE
. Love you all and talk to you really soon!
xoxo
Bye, V