Get name necklace is a web shop that offers lots of lovely personalized jewelry. Keep reading to find out more about this store!
Hello, my lovely readers and welcome to the new post about Get name necklace web shop! I have talked about this web shop earlier in this post: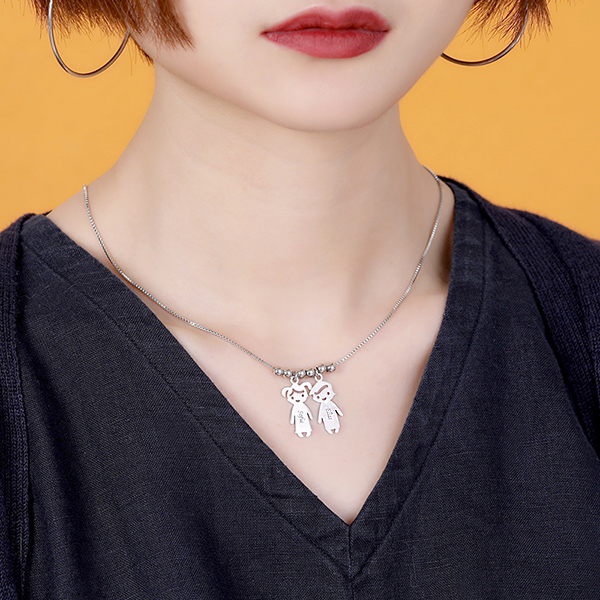 Besides gifting your loved ones necklace or other jewelry pieces with their name, you can make something like this on the photo where there are two figures with engraved names in them which would make a perfect gift for any Mother- to have her children's names on her necklace. The idea of that gift is so beautiful! Also, if there's any boy or man here reading this post, you can buy your girlfriend or wife a necklace like this and I'm sure she'll love it and enjoy wearing it. When it comes to prices, necklaces with names are available from 20 dollars to 50, depends on your wished font and the style of it. What surprised me about their offers is that all jewelry will come with a beautiful gift box which is completely free! And when it comes to shipping- they have free shipping worldwide! I love it when web shops have free worldwide shipping! The chain length can be chosen by the categories: child, young adult, adult and up to 55 centimeters. All necklaces are currently on sale so hurry up if you want to buy yourself or someone you love an amazing gift!
That was all for this post! I really hope you have enjoyed it! Don't forget to check their web shop and see all of the lovely jewelry you can buy! Ordering is pretty easy and fast. If you have any questions, don't hesitate to ask me in the comments below and I will do my best to help you. Thank you so much for reading this post and visiting my blog! Love you all so much and talk to you really soon!
xoxo
Bye, V