Bangs. You see women rocking the fringe on social media, and they're usually showcased on ladies with straight hair—but that doesn't mean curly-haired gals can't get in on the fun, too.
Plenty of people have sported curly hair with bangs and looked darn good rocking them. The key to perfecting curly bangs is crossing your I's and dotting your T's. This shouldn't be an impromptu moment of grabbing the scissors and chopping your strands. Whatever you do, please don't do that.
Since curly manes have a mind of their own, you want to leave this job to the hands of a stylist who has experience cutting and styling curly indian hair with bangs. Trust us, you'll be thankful in the end, because you don't want to have to clip those jagged curly hair bangs back for the next six months to hide a bad cut job. That's why we're here to help. Keep reading to learn more about the ins and outs of committing to curly bangs.
curly hair
SHOULD PEOPLE WITH CURLY HAIR GET BANGS?
In short, the answer is yes, yes, and yes! There should be no limits to styling or cutting your hair just because it's curly. In fact, you can actually use your curly texture to your advantage. Curly hair with bangs is a match made in heaven.
If you committed to curly hair bangs but decided they're not for you, don't worry. Styling your bangs while they're growing out may be a challenge, but it just requires patience. Depending on how quickly your hair grows and how short you cut them, you may be able to grow out your curly bangs in just a few months. For others, it may take six months to a year, but that doesn't mean you'll have awkward hair days forever. When in doubt, talk with your stylist about how to style your hair during the growing out process. If you do run into a snafu with your curly shag, don't fret. Consider it a temporary look and rock it to its fullest.
HOW CAN I MAKE BANGS LOOK GOOD WITH MY CURLY HAIR?
Before booking your appointment to request bangs with curly hair, follow these simple guidelines to ensure you come out with the exact look you desire. From a dry cut to styling bangs fresh out of the shower, we're sharing these easy-to-follow tips so you can transition into your new style with ease.
1. Ask Your Stylist to Cut Your Bangs Dry
You've probably heard that cutting curly hair wet can come with a little guesswork. That's because curl shrinkage is real. Your curl pattern can change drastically once dry, so it's really a big guessing game to pull out scissors on wet curls. For the best shape and definition, ask your stylist to cut your hair dry. And the same goes for your bangs. Cutting your curly hair with bangs dry not only helps to get an accurate length of your bangs, but it also helps to know how your curls will fall once styled. There's nothing worse than cutting bangs only to find out they are five inches shorter once dry and styled. Yeah, let's avoid that at all costs.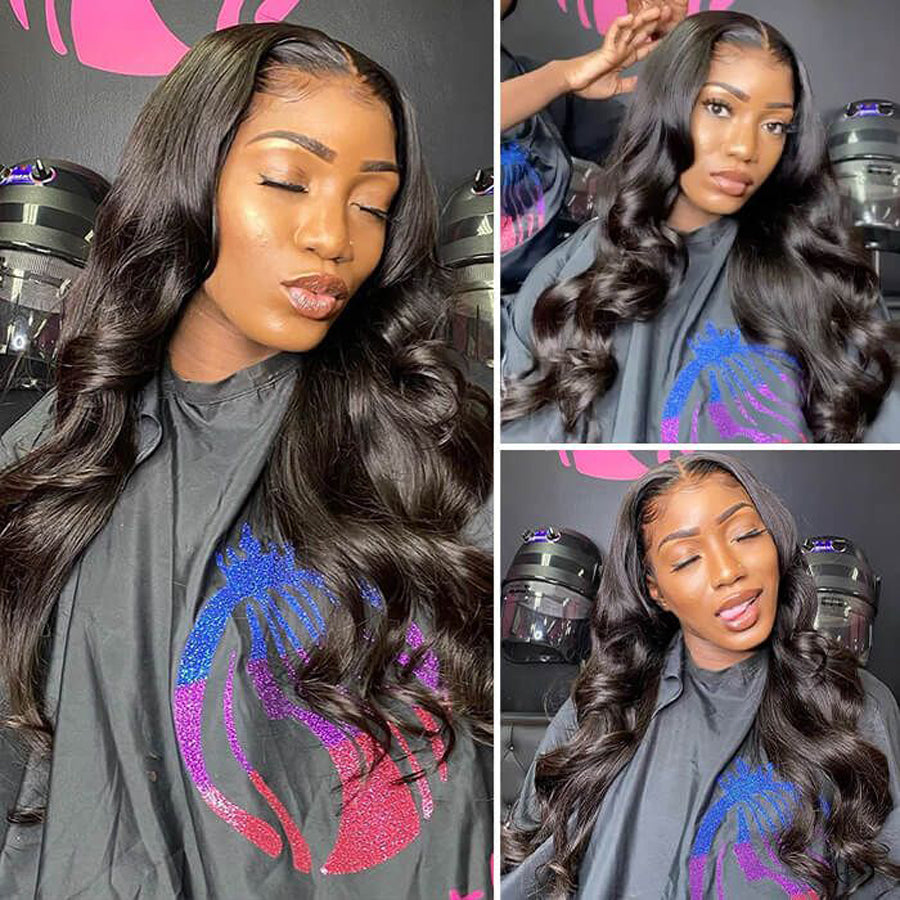 2. Longer Is Better Than Shorter
Remember we mentioned shrinkage? For this reason alone, you should ask your stylist to start with a longer bang than you think you want. If your curly hair bangs are cut longer, to begin with, you'll have some wiggle room to adjust the length to your liking. If the stylist cuts them too short, well, there's nothing that can fix the problem besides time. Best case scenario: Have your stylist cut your bangs long, then wash, dry, style, and make any adjustments from there. Again, the goal is to give yourself some flexibility to make adjustments to achieve the curly bangs of your dreams.
3. Don't Be Afraid to Wash Your Bangs More Frequently Than The Rest of Your Hair
It's highly recommended to avoid washing your curls every day, but this may not be true for curly hair with bangs. You may find that your ringlets look their best when freshly styled. So, even if you don't wash your hair every day, you may want to wash and reset your bangs. This may involve shampooing, conditioning, and styling, or simply spritzing with a little water and adding a styling product. The choice is truly yours. However often you wash, the key to keeping frizz at bay is to limit the amount of touching and manipulation once you've reset your bangs.
4. Apply Product While Your Bangs Are Still Wet
While it may seem like a good idea to add a cream or gel to your second-day bangs, you want to make sure you apply styling products while your hair is wet. Our go-to product for styling bangs is the Hair Milk Nourishing & Conditioning Styling Pudding. It provides moisture, hold, and helps define your curls, thanks to shea butter, macadamia, avocado, sweet almond, and jojoba oils.
5. A Curling Wand Is Your Friend
There may be days when your curls aren't cooperating with you, and a few strands in your curly hair bangs are out of place. To remedy this, grab a curling wand with a barrel width that is similar to your curl pattern. Set it to a low- to medium heat setting, and wrap your mink hair vendors around the wand to add definition to those unruly strands. And voila! You've got perfectly defined spirals in just minutes.
6. Keep Up With Your Trims
Don't adopt the habit of waiting to trim your bangs with curly hair until they start interfering with your eyesight. It's best to trim them every four to six weeks. Keeping up with routine trims will not only help you stick to your desired bang length, but if you're choosing to grow your hair out, it will ensure your long hair is healthy and free of split ends.
HOW TO STYLE BANGS WITH CURLY HAIR?
Now that you've got your new fringe, the question is, how do you rock naturally curly hair with bangs? And the truth is, there's really no right or wrong way. You can sport them down, toss them to the side, or even pin them back if you please. Truth be told, there are no curly hairstyles that are off-limits. But it is important to remember when you're styling the bangs that you want to avoid heavy or oily products. Instead, opt for lightweight creams and gels that will keep them in place without altering the texture. If you find that your bangs are shrinking more than you'd like as they dry, try gently pulling on the ends with your fingers. Again, avoid tousling your curls, so you don't end up with frizzy, undefined strands. Instead, spray some water on the ends and gently lengthen your curls with a lightweight product. If you're itching for a new style, make that appointment for a fresh cut with bangs. Just remember the tips and tricks to perfecting your fringe. And most importantly, enjoy the process.